Justeen Nason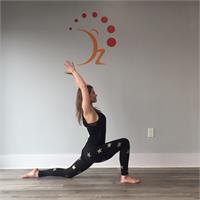 Justeen is a health & wellness advocate, yoga teacher, and proud partner at Real Hot Yoga. Justeen specializes in group and individual yoga and fitness regimes for any level, from beginner students and recently rehabilitated athletes to the more advanced practitioner. In class she seeks to provide a unique and exceptional experience with care, offering modifications to suit different needs. Justeen strives to keep her students inspired and engaged with challenging yet energizing sequencing, an uplifting attitude, and upbeat music!
Justeen is 200+ Hour RYT certified, focusing on vinyasa flow, hatha, restorative yoga, pranayama, and Katonah. She is pursuing her 500 RYT and is looking forward to getting a deeper insight to share with her students. Justeen enjoys helping students find it within themselves to become more successful in everything they do. She has become dedicated to living a holistic lifestyle, by incorporating yoga, mindful living, clean eating, and her dog Charlie Brown into her routine!
Justeen Nason instructs the following:
Hot Flow/Hot power/Hot vinyasa - Call it what you want, it's one of our favorite classes! Power yoga offers an excellent way to tone & strengthen muscles, increase heart rate, and burn calories…and then some! The hot room, 95 will make you sweat giving your body an awesome detoxification. Challenge yourself, feel great, and prepare to power through the rest of your day… or evening. This all levels class has plenty of instruction for beginners, and some optional, more advanced poses such as arm balances and inversions to challenge more experienced yogis.




If we could, we'd make this class mandatory. The harder you work your body, the more you NEED Yin Yoga. Suitable for almost all levels of students, Yin Yoga is a perfect complement to the dynamic and muscular styles of yoga (and other forms of exercise) that emphasize internal heat, and the lengthening and contracting of our muscles.

Yin Yoga targets the connective tissues (such as the ligaments, bones and even the joints) that normally are not exercised very much in a more active style of asana practice or other forms of exercise. Many of the stretches focus on the hips, pelvis, and lower spine as many problems and injuries (such as knees, ankles, back and neck) can be lessened and prevented by dealing with tight hips. Very therapeutic - and to make it more so, we've added some heat. Plan to attend, your body will thank you!