Kate Decock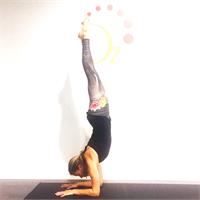 Kate has been teaching yoga since 2004, when she completed her first teacher training at the Bikram College of India in Los Angeles. She has also completed her Ashtanga teacher training at Pure Yoga NYC and Pre-Natal training at YogaWorks in NYC and has taught at studios in Chicago, Ithaca, New York and New Jersey. A former runner, Kate first stepped onto a yoga mat in 2002. She was instantly hooked and has never stepped off. She welcomes the physical challenges, but is even more passionately drawn to the mind and spiritual connection of a consistent yoga practice. Kate is honored to have the opportunity to share her love of yoga with others and hopes students will find a place of peace on the mat that remains with them off the mat.
Kate Decock instructs the following:
Like a good power yoga class? Then you will LOVE Ashtanga Vinyassa since it's the basis for most modern power yoga.

Ashtanga is a vinyasa-style practice that follows a set series of poses, established by Indian guru, Sri K. Pattabhi Jois. This is a powerful style of yoga that weaves breath and movement through a sequential order of asanas that is meticulously followed. Each posture is a preparation for the next, developing the strength and balance required to move further. The series is also sequenced in a way that is easy for new students to learn the most commonly practiced poses. The internal heat created through the practice results in a body that is light and strong and a mind that is focused and calm. Modifications will be offered to students based upon their level - beginners are welcome. Done in a warm room (85).