Jay Karlinski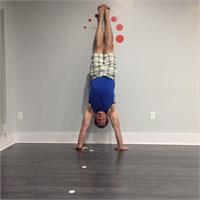 Jay Karlinski, a 500 hour certified yoga teacher, is a world traveler, explorer, and committed yogi for nearly 20 years. Jay lived at the world renowned Kripalu Center for Yoga and Health for 2 years, teaching and eventually directing their yoga teacher training program. His classes are focused on creating strength and stability through dynamic movement and energizing balance postures. Please come to class prepared to be challenged!
Jay has traveled the world in search of adventure and experience. He served in the Peace Corps in Guatemala, living in a small, rural mountain village. He taught English in Thailand, lived in an orphanage in India. He lived, worked, and played in Mexico and Jamaica. He climbed Machu Pichu, explored the Amazonian rain forests. He trekked through the jungles of Borneo in search of the wild orangutan, rode his bicycle (with his dog) across the USA. He paraglided in the Andes, bungee jumped in Costa Rica, surfed (poorly) huge waves in Indonesia. He skydived, scuba dived, zip lined, and spelunked. He has hiked all the great National Parks of America and Canada, got lost in Tazmania, snorkeled in Fiji, and volunteered with Operation Smile in Vietnam. He has led yoga teacher trainings in Connecticut, Massachusetts, New Jersey, and New York. He has explored Laos, Cambodia, Bolivia, Australia, and countless places in between. Through all of the adventures and all of the experienes, yoga has been the constant. Jay believes that a truly effective yoga practice informs all life experiences, by bringing increased awareness and aliveness to all that we do.
Jay Karlinski instructs the following:
Hot Flow/Hot power/Hot vinyasa - Call it what you want, it's one of our favorite classes! Power yoga offers an excellent way to tone & strengthen muscles, increase heart rate, and burn calories…and then some! The hot room, 95 will make you sweat giving your body an awesome detoxification. Challenge yourself, feel great, and prepare to power through the rest of your day… or evening. This all levels class has plenty of instruction for beginners, and some optional, more advanced poses such as arm balances and inversions to challenge more experienced yogis.