Alex Roberts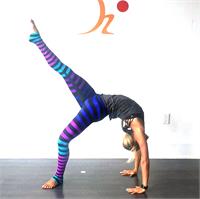 Alex started practicing hot yoga during college and fell in love with it instantly. A dancer since childhood, the vinyasa practice reminded her of the classes she loved and missed. A self-proclaimed "fitness junkie", Alex received her NASM personal trainer certification in 2015. In 2016, she received her Twisted Lotus Training at Real Hot Yoga, a lineage of the Laughing Lotus' Lotus Flow. Alex loves to incorporate strength and cardio exercises into her fun flows while still allowing for depth and stretch. he also teacher Tone and Sculpt: a mix between vinyasa and circuit training incorporating weights,resistance bands. blocks, and straps. Her playlists fuel her upbeat classes and allow for a balance between effort and ease.
Alex Roberts instructs the following:
In this fun and unique class small isometric ballet moves are added to classic yoga postures to kick the toning aspect up a notch. Toning the lesser used muscles helps to bring them into "action" to aid the larger muscles making all of your yoga poses even stronger to get the maximum benefits! Add some core work to the mix and get ready to feel the burn! And because we like it hot, our 95 room ensures a great detoxifying sweat to make you feel great!




Hot Flow/Hot power/Hot vinyasa - Call it what you want, it's one of our favorite classes! Power yoga offers an excellent way to tone & strengthen muscles, increase heart rate, and burn calories…and then some! The hot room, 95 will make you sweat giving your body an awesome detoxification. Challenge yourself, feel great, and prepare to power through the rest of your day… or evening. This all levels class has plenty of instruction for beginners, and some optional, more advanced poses such as arm balances and inversions to challenge more experienced yogis.