Barbara Marrott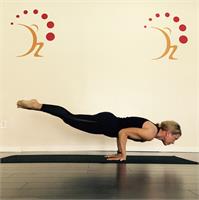 Barbara has been teaching group exercise for 30+ years. She is an AFAA certified fitness instructor and personal trainer. She was most recently the fitness host of "Sweat in the City"- a segment on the "Running Series" which aired on the YES Network and reviewed the most cutting edge classes in the metropolitan area. She was introduced to yoga by her daughter (a one-time world class athlete in taekwondo) who invited her to take class so they could spend time together. Barbara was humbled by how yoga challenged her strength, flexibility and balance. She was hooked and decided to get certified. She completed her 200-hour RYT under the guidance of Brenda Blanco. Barbara's Real Hot & Tone class is unique in that it combines her knowledge of fitness using weights, resistance tubing and bodyweight training with yoga asanas. This class is a great compliment to your yoga practice.
Barbara Marrott instructs the following:
Strengthen, Lengthen AND Tone at Real Hot Yoga. We're bringing Yoga Fitness to a whole new level of muscle engagement in our Hot Tone and Sculpt yoga classes. Get your heart rate up in this FUN class, incorporating high intensity cardio interval training circuits utilizing both resistance bands and free weights. Increase your overall strength and engage muscles you didn't even know you had! With an emphasis on building your power center- your CORE, you'll stand taller & be able to safely support yourself better throughout your yoga practice. This high energy class will sculpt and tone you, while stretching you back out with hot power yoga sequences sprinkled throughout the class. Room is 85 degrees




Hot Flow/Hot power/Hot vinyasa - Call it what you want, it's one of our favorite classes! Power yoga offers an excellent way to tone & strengthen muscles, increase heart rate, and burn calories…and then some! The hot room, 95 will make you sweat giving your body an awesome detoxification. Challenge yourself, feel great, and prepare to power through the rest of your day… or evening. This all levels class has plenty of instruction for beginners, and some optional, more advanced poses such as arm balances and inversions to challenge more experienced yogis.