Dana Martinez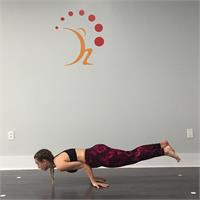 Dana came to yoga in 2011 after a running injury took her off her feet for a few months. As a life long runner, yoga provided Dana with the strength and flexibility she so desperately needed. It also became a safe place where she could unwind mentally from her day job working with children who suffer from emotional trauma and behavior disorders. Dana received her 200 hour certification from Sacred Sounds Yoga in 2016 and has been teaching ever since. Her classes focus on mindful movement and meditation set to the soundtrack of some good slow jams.
Dana Martinez instructs the following:
Unwind, relax and chill out! This class will sooth the soul with a blend of deep, slow moving asana with supported restorative poses. This class is designed to help you melt away tension, decrease feelings of stress and anxiety, increase a sense of calmness and peace of mind. By the end of your practice you will feel recharged, replenished and relaxed. This class is suitable for and beneficial to all level of practitioners.




Hot Flow/Hot power/Hot vinyasa - Call it what you want, it's one of our favorite classes! Power yoga offers an excellent way to tone & strengthen muscles, increase heart rate, and burn calories…and then some! The hot room, 95 will make you sweat giving your body an awesome detoxification. Challenge yourself, feel great, and prepare to power through the rest of your day… or evening. This all levels class has plenty of instruction for beginners, and some optional, more advanced poses such as arm balances and inversions to challenge more experienced yogis.




An energizing yet grounding fusion of Yin yoga and Vinyasa flow. A perfect balance of Yin and Yang to create an integrated balanced practice for all levels of practioner. First, a dynamic vinyasa flow practice focusing on strength, balance and core while emphasizing breath aligned with movement. Followed by a Yin series of still postures designed to go deep into the connective tissues in the joints that hold the most tension. The heat and internal awareness generated in the Yang portion build on the deep tissue and energetic releases cultivated during the Yin series.