James Calleo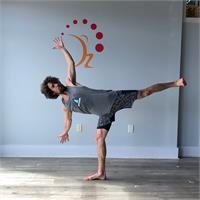 James is a full-time adventurer, musician and certified yoga instructor. James started his yoga career playing music at yoga studios in exchange for yoga. Constantly being surrounded by the practice, James received his 200 HOUR RYT from Jeff Posner and his Laughing Lotus inspired sequencing. You can expect to flow from start to finish, with logical sequencing that will allow your body to reap the benefits of combining steady strength and free flowing movement. James's classes are inspired by his singer/songwriter career in music, creating a class that plays like a sweet song.
"Yoga is like music: the rhythm of the body, the melody of the mind and the harmony of he soul create the symphony of life."- BKS Iyengar
James Calleo instructs the following:
Hot Flow/Hot power/Hot vinyasa - Call it what you want, it's one of our favorite classes! Power yoga offers an excellent way to tone & strengthen muscles, increase heart rate, and burn calories…and then some! The hot room, 95 will make you sweat giving your body an awesome detoxification. Challenge yourself, feel great, and prepare to power through the rest of your day… or evening. This all levels class has plenty of instruction for beginners, and some optional, more advanced poses such as arm balances and inversions to challenge more experienced yogis.