Jessi Wing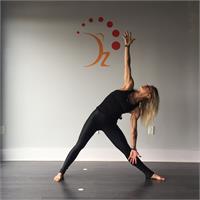 Jessi is a 500hr Ayurveda inspired yoga teacher with additional certifications in Ayurveda, Yin and Restorative yoga. Yoga found Jessi at a very pivotal time in her life. She had been looking for some sense of peace amidst the chaos, and found yoga to be the game changer. During a transformational year, she filled her days with the practice until she realized she had stumbled onto the right path, and was headed somewhere truly magical. She decided to dive deeper, and immersed herself in her 200hr teacher training under Kim Crotty and Denise Egan, coming to appreciate that growth requires strength, and strength requires growth. Jessi couldn't get enough, extreme in all that she does, her insatiable hunger for knowledge led her to take that next step, completing her 300hr Advanced Vinyasa training under Amy Pastore. Her advanced iflow yoga studies were humbling. Reining in her free thinking, big-picture outlook, she developed a great attention to detail, allowing her to fine-tune her offerings. Looking at yoga through an ayurvedic lens, Jessi integrates the art and science of longevity into her teachings to keep her students balanced and safe on their yoga journey. She brings her colorful experiences, coupled with a passion for movement to encourage others to carve out time to feed their body and soul. The opportunity to find stillness within a physically demanding practice is what she offers her students. The music, the movement and the breath brought together in a practice of personal acceptance and patience is what inspires Jessi.
Jessi Wing instructs the following:
An energizing yet grounding fusion of Yin yoga and Vinyasa flow. A perfect balance of Yin and Yang to create an integrated balanced practice for all levels of practioner. First, a dynamic vinyasa flow practice focusing on strength, balance and core while emphasizing breath aligned with movement. Followed by a Yin series of still postures designed to go deep into the connective tissues in the joints that hold the most tension. The heat and internal awareness generated in the Yang portion build on the deep tissue and energetic releases cultivated during the Yin series.




Hot Flow/Hot power/Hot vinyasa - Call it what you want, it's one of our favorite classes! Power yoga offers an excellent way to tone & strengthen muscles, increase heart rate, and burn calories…and then some! The hot room, 95 will make you sweat giving your body an awesome detoxification. Challenge yourself, feel great, and prepare to power through the rest of your day… or evening. This all levels class has plenty of instruction for beginners, and some optional, more advanced poses such as arm balances and inversions to challenge more experienced yogis.