Brendan Gibbons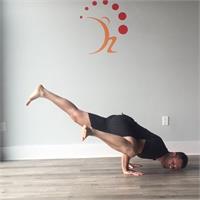 Brendan has been practicing yoga since 2001. He studied yoga intensely while traveling through India, Nepal and Thailand for 6 months in 2007 and then completed his certification in 2008 with YogaWorks in New York City. Since then he has been teaching at studios in New York City, Hoboken and surrounding suburbs and Los Angeles. Also, he has either managed or owned yoga studios in NYC, Hoboken and LA.
His classes are strong and energetic. Combining intelligent sequences with a strong pace you will be left feeling invigorated, "worked out", yet calm, focused and with a better understanding of your body. By practicing with Brendan you will gain clear lines of strength and power within your body not just from a strong pace but also from working clearly and vigorously within each posture. When you are done with his class you will be ready to take on the day with strength, ease and may even feel an inch taller.
Brendan Gibbons instructs the following:
Hot Flow/Hot power/Hot vinyasa - Call it what you want, it's one of our favorite classes! Power yoga offers an excellent way to tone & strengthen muscles, increase heart rate, and burn calories…and then some! The hot room, 95 will make you sweat giving your body an awesome detoxification. Challenge yourself, feel great, and prepare to power through the rest of your day… or evening. This all levels class has plenty of instruction for beginners, and some optional, more advanced poses such as arm balances and inversions to challenge more experienced yogis.