Jessica Namit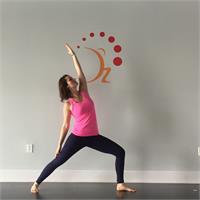 Jessica Namit's teaching style is thoughtful and calming, allowing students to turn inward as they work on increasing strength and flexibility, as well as focusing the mind.
Jessica encourages students to honor their bodies and physical limitations as they practice, offering modifications for either more or less of a challenge.
She appreciates that everyone has their own unique motivations for practicing yoga, which is why it is her intention to create a safe and supportive environment where students can explore, grow, and discover the wonderful benefits of yoga for themselves.
Jessica is Yoga Alliance certified to teach yoga and prenatal yoga, and is CPR/AED certified. For more info: jessicanamit.com
Jessica Namit instructs the following:

Prenatal Yoga offers Mommies-to-be an environment to safely begin or continue their yoga practice as you connect with your mind,body and spirit throughout the journey of pregnancy. Learn therapeutic applications and movements to ease common discomforts such as nausea, constipation, swelling- while also strengthening the uterus and pelvic muscles, soothing your spine and improving digestion and circulation. Embrace and understand the changes in your body during this special time, in an open and nonjudgmental, peaceful environment with a modified practice of gentle movements to and focus on breath (This room is NON-HEATED)