Melanie Rodriguez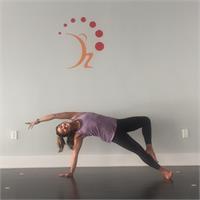 Melanie Rodriguez is a 200 hour certified yoga instructor. She completed her training and certification through the iFlow Yoga program with Amy Jean Pastore in May 2017. Through Amy's training, Melanie has learned to sequence her classes with intelligence, inspiration, and intuition. Through yoga, Melanie has experienced the physical, mental and spiritual benefits offered by the practice and has come to realize that true self-love and happiness can be achieved. She hopes to share all of this with her students in a light-hearted, fun, and creative way.
Melanie Rodriguez instructs the following:
Hot Flow/Hot power/Hot vinyasa - Call it what you want, it's one of our favorite classes! Power yoga offers an excellent way to tone & strengthen muscles, increase heart rate, and burn calories…and then some! The hot room, 95 will make you sweat giving your body an awesome detoxification. Challenge yourself, feel great, and prepare to power through the rest of your day… or evening. This all levels class has plenty of instruction for beginners, and some optional, more advanced poses such as arm balances and inversions to challenge more experienced yogis.