Jessica Lisovicz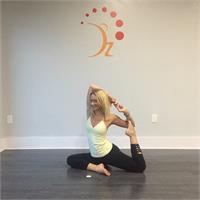 Jessica Lisovicz is a certified 200-hour registered yoga teacher. She first discovered the yoga practice at Cornell University and took dance courses through the Department of Performing and Media Arts. She then received her 200-hour certification in 2015 with Julie Gurevich and Heather Sheridan and has trained in the Baptiste Yoga style.
Her teaching style is a challenging vinyasa flow class with a focus on strength, flexibility and mindfulness. She loves using the power of music to help her students connect deeper with their practice, so expect a balanced playlist of mood-boosting tunes to help power-up the body and settle the mind.
Jessica Lisovicz instructs the following:
Hot Flow/Hot power/Hot vinyasa - Call it what you want, it's one of our favorite classes! Power yoga offers an excellent way to tone & strengthen muscles, increase heart rate, and burn calories…and then some! The hot room, 95 will make you sweat giving your body an awesome detoxification. Challenge yourself, feel great, and prepare to power through the rest of your day… or evening. This all levels class has plenty of instruction for beginners, and some optional, more advanced poses such as arm balances and inversions to challenge more experienced yogis.