Jill Rodriguez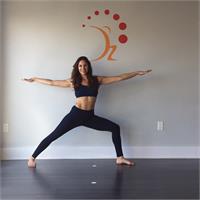 Jill Rodriguez is a certified 200-hour Vinyasa Yoga teacher. She began her yoga journey as a Peace Corps Volunteer in Honduras practicing Bikram Yoga in an outdoor, tropical setting. She was quickly hooked on the practice as she transformed her body and mind while adapting to another culture and way of life.
Years later, she reunited with Bikram Yoga, then transitioned to Vinyasa Yoga which fueled her desire to learn more, practice more and spread her passion through teaching.
She received her 200-hour certification with Julie Gurevich & Heather Sheridan and is currently working towards her 300- hour certification with Amy Jean Pastore.
Jill teaches a powerful, grounding and exhilarating class that is accessible to all levels and challenging to the most advanced practitioners.
Jill Rodriguez instructs the following:
Hot Flow/Hot power/Hot vinyasa - Call it what you want, it's one of our favorite classes! Power yoga offers an excellent way to tone & strengthen muscles, increase heart rate, and burn calories…and then some! The hot room, 95 will make you sweat giving your body an awesome detoxification. Challenge yourself, feel great, and prepare to power through the rest of your day… or evening. This all levels class has plenty of instruction for beginners, and some optional, more advanced poses such as arm balances and inversions to challenge more experienced yogis.