Lisa Anzelmo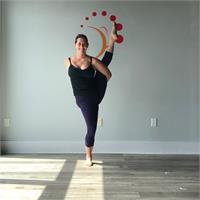 Originally from New Orleans, Lisa first discovered yoga in 2000 and is still an actively practicing student. After becoming a personal trainer, she received her RYT 200-hr certification in 2007. Further certifications include: 100-HR Ashtanga Certification with Scott Harig at Pure Yoga (2013); 20-HR Restorative and Yoga Nidra Certification with Mona Anand at ISHTA Yoga (2014); 20-HR Yoga for Labor and Delivery with Mary Barnes at Pure Yoga (2017). Her classes focus on intuitive flows, proper alignment and attention to the breath, complete with fun playlists and cheesy jokes thrown in for good measure. It is Lisa's hope to spark a desire in her students to challenge themselves by safely going further and making their practice that much "brighter."
Lisa Anzelmo instructs the following:
Hot Flow/Hot power/Hot vinyasa - Call it what you want, it's one of our favorite classes! Power yoga offers an excellent way to tone & strengthen muscles, increase heart rate, and burn calories…and then some! The hot room, 95 will make you sweat giving your body an awesome detoxification. Challenge yourself, feel great, and prepare to power through the rest of your day… or evening. This all levels class has plenty of instruction for beginners, and some optional, more advanced poses such as arm balances and inversions to challenge more experienced yogis.