Sara Parrott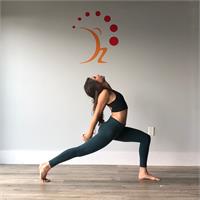 As a college athlete, Sara had a very structured workout
schedule. Shortly after graduation, she found herself with freedom to
find her own way. She began practicing yoga for the physical benefits,
but quickly discovered how balanced the practice made her feel. As her
practice grew, she became passionate about helping others to find both
physical and spiritual satisfaction in practice. Sara received her RYT
200-hour certification from Yoga in the World
under RYT-500 teacher Anayra Calderon.
Sara is a thoughtful, energetic, focused instructor who brings positive
energy to each class. You can expect a physically challenging but playful,
alignment-focused practice that will leave you feeling energized. She is a
dedicated practitioner and is honored to maintain a practice that allows
her to grow and evolve, while guiding her students to do the same.
Sara Parrott instructs the following:
Hot Flow/Hot power/Hot vinyasa - Call it what you want, it's one of our favorite classes! Power yoga offers an excellent way to tone & strengthen muscles, increase heart rate, and burn calories…and then some! The hot room, 95 will make you sweat giving your body an awesome detoxification. Challenge yourself, feel great, and prepare to power through the rest of your day… or evening. This all levels class has plenty of instruction for beginners, and some optional, more advanced poses such as arm balances and inversions to challenge more experienced yogis.




Unwind, relax and chill out! This class will sooth the soul with a blend of deep, slow moving asana with supported restorative poses. This class is designed to help you melt away tension, decrease feelings of stress and anxiety, increase a sense of calmness and peace of mind. By the end of your practice you will feel recharged, replenished and relaxed. This class is suitable for and beneficial to all level of practitioners.